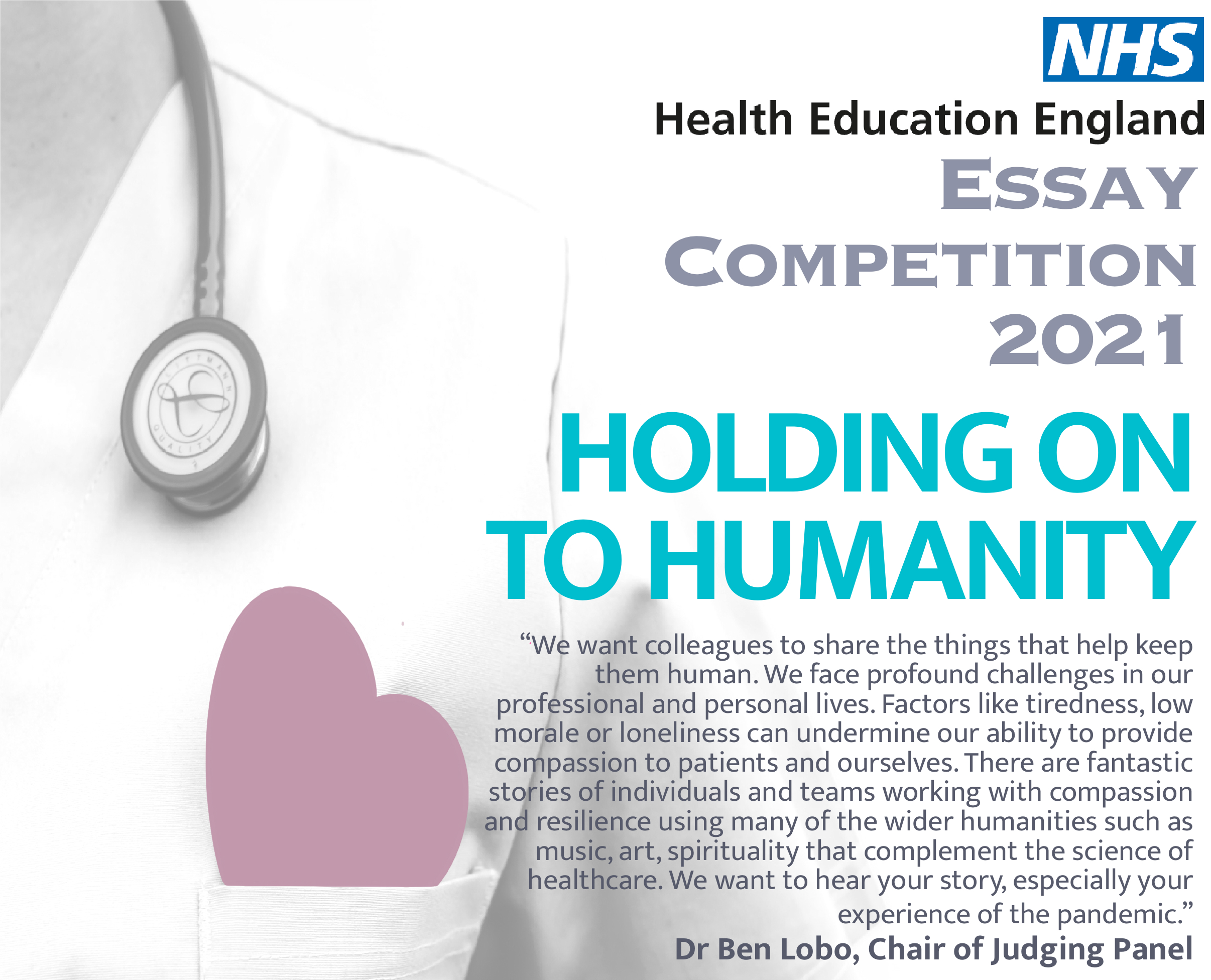 Suggested areas of interest for applicants to consider:
• Language and the practical art of communication
• Advocacy, Human Rights, Ethics and the Law
• Art and Music • Well-being and Psychology
• Religion, Culture, Individualism, and History
• Poetry, Literature, Media and the Popular Culture
Prizes
12 winning essays with 1 overall winner
Overall winner will present at the Faculty of Medical Educators Conference 2022 The winning essays will be given the opportunity to publish as collected work in a book
Who can enter?
Any student or professional (or groups) in the healthcare sector. We are especially trying to encourage more front-line staff and from diverse backgrounds to contribute. Senior professionals are welcome but this is not a test of academic prowess.
How to Enter:
• 2,000 words or less, with a limited number of well-chosen figures, artwork, diagrams
• MS Word document, with word count, in Calibri Font 11, single line spaced
• please limit any references to those that are essential
• sent securely and directly to essaycompetition@hee.nhs.uk
• name of (lead) author/s; primary email contact; designation /position
• any declaration of conflict of interest (commercial or organisational entries will be excluded)
• this competition requires the highest standards of professionalism, plagiarism will not be tolerated
Closing date 31st January 2022.
Short listed and then winning authors will be notified by email by March 2022.
Further information and support:
Please send any such requests to the same email address essaycompetition@hee.nhs.uk
Terms and Conditions
This competition is offered in good faith. There are no cash prizes or payments. The prizes might be subject to change, additional prizes or alternatives may also be offered. Although the entries will remain the intellectual property of the applicants, there may be further changes to the terms and conditions with the involvement of third parties such as publishers. The judging panel decisions are final and there are no systems of appeal.