Suggested e-LfH modules for trainers
Although e-Learning for Healthcare provides a broad range of knowledge and resources covering a wide variety of subjects, HEE's East of England office has identified some suggested modules for current/aspiring trainers to complete. These suggestions represent a progression, so if (for example) you are already working as an Educational Supervisor, you may also want to complete the Clinical Supervisor modules to contribute towards your CPD.
Domain requirements
As a reminder, Clinical Supervisors must demonstrate CPD in the following domains:
Ensuring Safe and Effective patient Care through training
Establishing and maintaining an environment for learning
Teaching and facilitating learning
Enhancing learning through assessment
Continuing professional development as an educator
Educational Supervisors must demonstrate CPD in the above domains, as well as the below two:
Supporting and monitoring educational progress
Guiding personal and professional development
Finding the below resources on e-LfH
To be able to access online learning you will need to register at www.e-lfh.org.uk. Once you are logged on please search for a relevant programme (you either use search box or browse programmes list). To access specific modules please follow the pathway from https://portal.e-lfh.org.uk/Catalogue: Programme/Catalogue/Module.
So if you wanted to access Educator Training Resources / 01-Ensuring Safe and Effective patient care through training / Supervision, you would find and click on Educator Training Resources on the left (1), then 01-Ensuring Safe and Effective patient care through training​ (2), then click the Play button next to Supervision (3).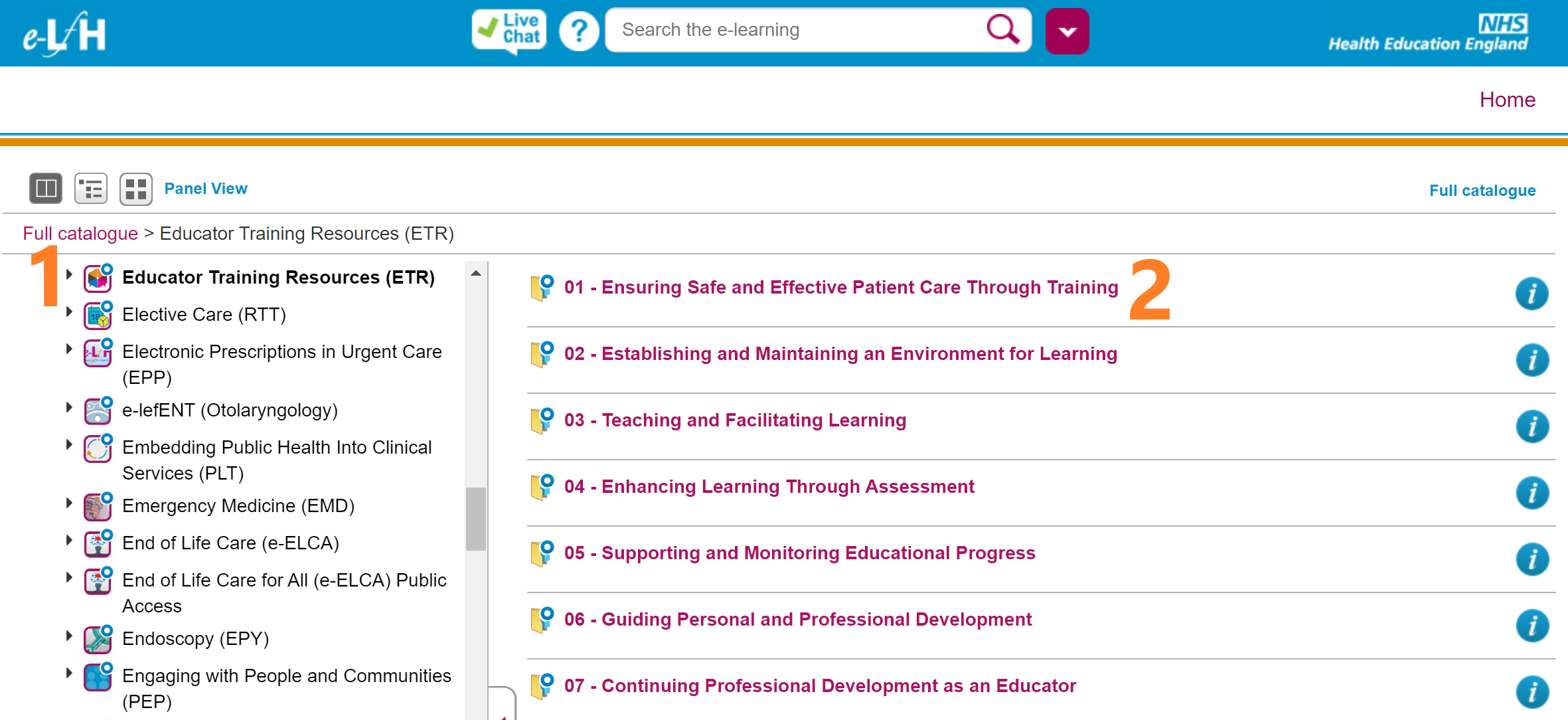 Note that, for the Educator Training Resources programme, the catalogue names correlate with the the relevant GMC domain for the module/s.
NOTE DECEMBER 2022: The below modules have been migrated to the Educator Training Resources (ETR) NEW catalogue available here: https://portal.e-lfh.org.uk/Component/Details/722610. We are in the process of updating our links below to reflect this change - however, the module names remain the same, although the folder structure may have changed. You can use the Search toolbar at the top of the e-LfH website to search for the relevant module name/s.