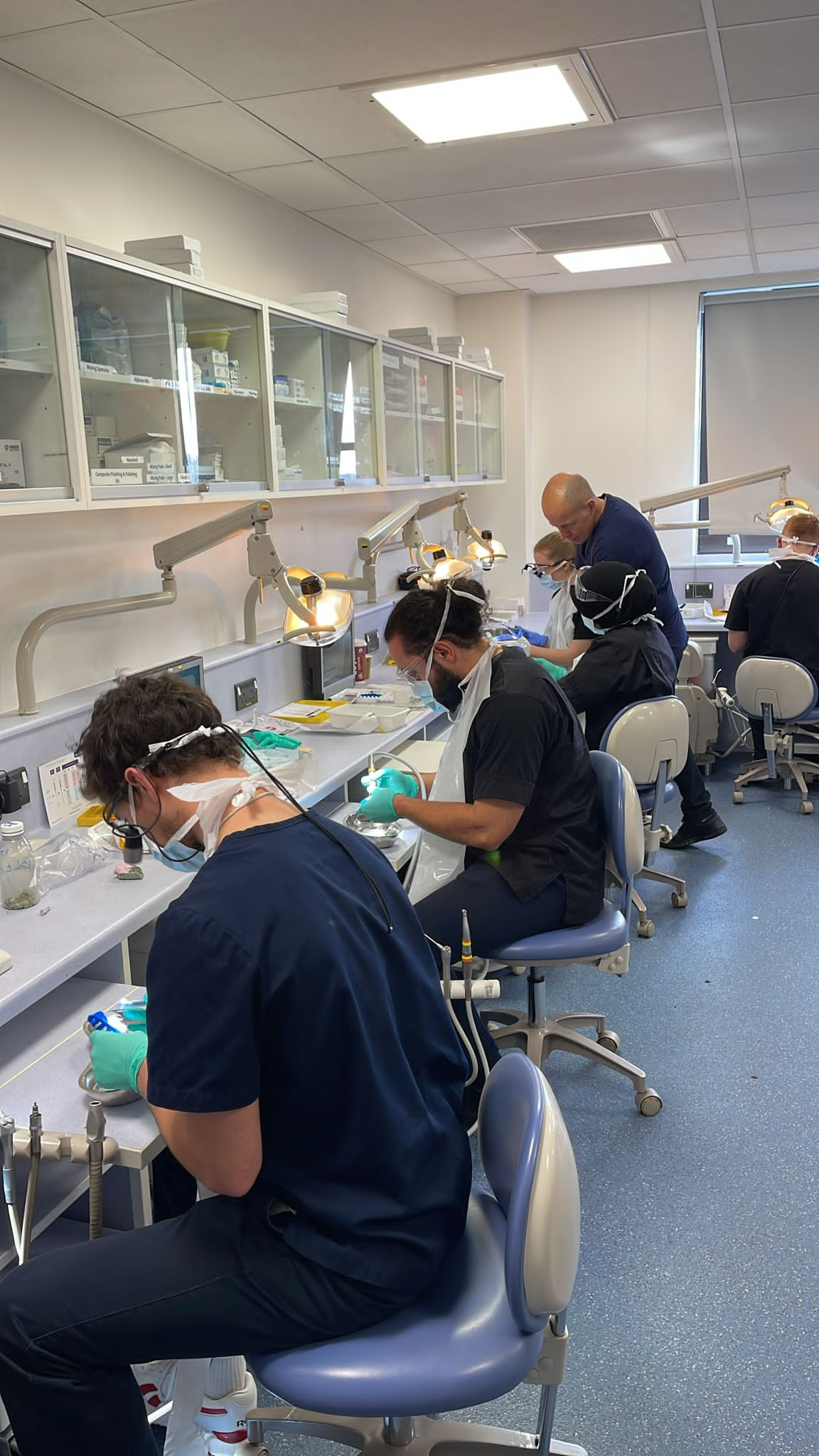 Being an Educational Supervisor (ES) for Dental Foundation Training can be very rewarding and brings with it additional opportunities.  Many Educational Supervisors relish the opportunity to develop the skills of the dentists of the future as well as enhancing their own. An ES is an experienced NHS general dental practitioner with high clinical standards, good ethical values, is currently included on the National Performers. An ES needs to have the skills to create a learning environment for the trainee, and to assess the learning that takes place.   
The ES must:
be available to provide help and advice, be it at the chairside or otherwise
undertake a weekly tutorial lasting one hour, during normal working hours.
the ES is also required to take part in not less than 14 sessions (7 days) of postgraduate activity associated with Dental Foundation Training but most of these sessions are taken up with attendance at events and meetings organised by the Scheme or the Region.
ESs and FDs are formed locally into  schemes comprising of 14-16 FD's and their Educational Supervisors. Schemes are managed by Training Programme Directors.
Programme Details 
Dental Foundation Training and Dental Therapy Foundation Training programmes both start on 1st September each year and lasts for a period of twelve months, during which four weeks holiday may be taken (plus Bank Holidays). On Satisfactory Completion of one year of Dental Foundation Training year in an approved and quality managed training scheme and practice. Foundation Dentists are awarded a Foundation Training Certificate which allows for full acceptance to the NHS Performers List. Foundation Therapist are awarded a Certificate of Participate with listed competencies.
Foundation Dentists will attend a maximum of 30 study days during the training year. On weeks when there is a study day the FD will work in practice for 28 hours. 
Satisfactory Completion of Dental Foundation Training is mandatory for a full listing on the NHS Dental Performers List. During the Foundation Training programme, FDs will undertake many different assessments and these will be recorded in an on-line ePortfolio.  The ePortfolio is used as an educational aid throughout the year.  On a regular basis each FD records achievements and concerns,  and describes and analyses events that have occurred recently.  The Educational Supervisor works with the FD and the ePortfolio to produce action plans and regular assessments of development.
During the period of Training the ES is paid a Training Fee of £11,700 per annum (£975 per month). A sum representing the service cost of employing the FD of £5,347 per month is also paid (figures correct at November 2023).The FDs are employed by a Lead Employer and work at the practice (Host Organisation) 
At the end of the year, the FD may wish to remain in general dental practice or alternatively may wish to leave to enter a hospital post.  In the past, many FDs have remained at their Training practices as a full NHS Performer and gained further precious experience, however this is not always possible.  
Dental Therapst Foundation Training  has some varianace - more inforamtion can be found in the Dental Foundation Recruitment Guidance notes. 
Outline Conditions
To be selected as an Educational Supervisor these are some of the outline conditions: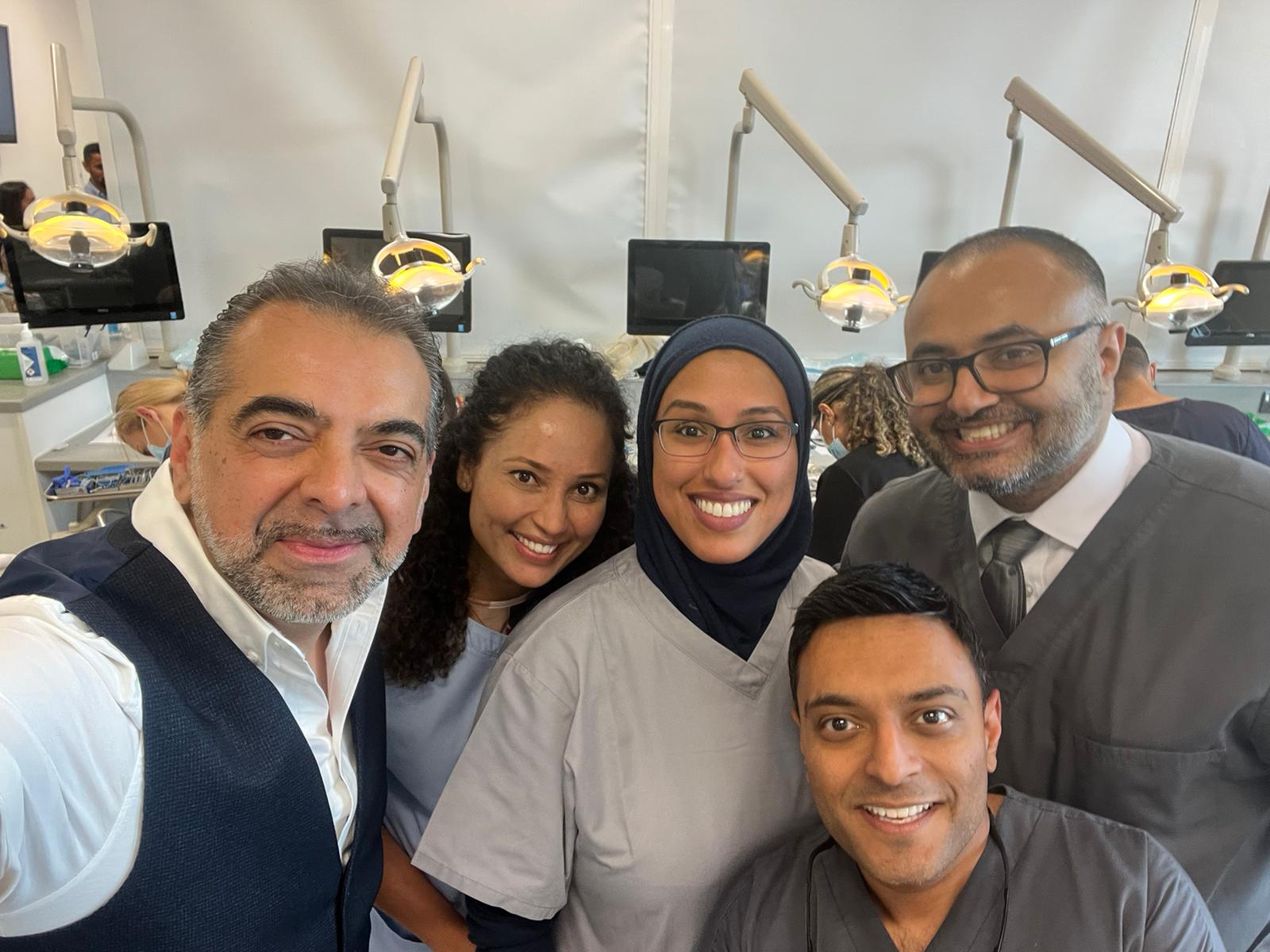 You must have significant experience as a performer in NHS Primary Care (typically equivalent to four years full time experience), and in your present practice for not less than one year.
You must have a personal commitment to the NHS of not less than 1,000 UDAs or £25,000 per annum.
You have to provide a surgery for the Foundation Trainee to work in, together with a trained and experienced dental nurse
You must be available in the practice for at least three days a week whilst the FD is working, and you are expected to be able to make yourself available for help throughout the day.
There must also be the presence of another dentist, able and prepared to provide supervision of the FD in the practice at times when the ES is not present
More detailed information can be found in the Practice and Person Specification documents
Are you interested in finding out more about Dental Foundation Training (DFT) and Dental Therapy Foundation Training (DTFT)?
NHS England – Workforce Training and Education (WT&E) would like to invite you to attend a webinar on Tuesday 12th December 2023 to learn more about DFT and DTFT. Applications to be an Educational Supervisor for training starting in Sept 2024 will launch on Tuesday 2nd January 2024 and need to be received no later than midnight on Sunday 28th January 2024.
We are particular keen to recieve applications from practices location within the following ICBs: 
NHS Lincolnshire ICB
NHS Northamptonshire ICB
NHS Nottingham and Nottinghamshire ICB
NHS Staffordshire and Stoke-on-Trent ICB
NHS Shropshire and Telford and Wrekin ICB
NHS Herefordshire and Worcestershire ICB
Aims
This course is aimed at dentists who are interested in applying to become Educational Supervisor (ES) for DFT or DTFT in the Midlands Region. Practice Managers and Practice Owners who are keen to find out more about DFT or DTFT are also most welcome.
Learning objectives
Describe the essential requirements of a training practice
Give an overview of the structure and function of DFT and DTFT
Give an account of an Educational Supervisor's role and responsibilities in DFT and DTFT
Give an account of the essential attributes of an Educational Supervisor and describe the selection process for these
Explain the financial renumeration/payments made to the practice and ES
Give an account of how Foundation Dentists (FDs) are paid, and the potential financial and other benefits to a training practice
Describe the current assessment tools used in Dental Foundation Training as part of satisfactory completion
Outline the pairing process for Foundation Dentists recruitment
Discuss the relevance of the electronic portfolio
GDC Development Outcome = B
Date – Tuesday 12th December 2023
Time – 6:30pm to 8pm
Platform – MS Teams Webinar

If you want to gain CPD for this event, register here.
Provisional Timeline - Subject to change
12th December 2023

Interested in being an Educational Supervisor Webinar

Recruitment guidance documents and supporting documentation will be available to download from the website

2nd January 2024

 

Educational Supervisor recruitment opens

28th January 2024 (23:59)

Closing date and time for all ES applications

Applicants are advised to submit their applications well in advance of the deadline, as late or incomplete applications cannot be accepted.

3rd March - 26th April 2024

New Training Practices visits are completed by a TPD, and reports completed.

 

Five Year Quality Visits of existing Training Practices are completed by TPDs and reports completed

March - April 2024

New ES interviews - completed via MS Teams 

Provisional dates for panels are:

Monday 11th March 2024
Thursday 14th March 2024
Friday 12th April 2024

April 2024

Assessment and scoring of applications

 

May 2024 (mid to late)

Successful applicants are informed 

 

Summer 2024

Graduation and allocation of Foundation Dentists. (Dependant upon National Recruitment Arrangements)
 

6th June 2024 (Thursday)

New ES Induction courses for new Educational Supervisors

To be held at 23 Stephenson Street, Birmingham - adjacent to New Street Station 

 

14th June 2024 (Friday)

Educational Supervisor Preparation Webinar and Initial Scheme meeting

All new and existing ESs

 

W/C 17th June 2024

Local Matching of List A FD Applicants

UK Graduates 

 

W/C 24th June 2024

Confirmation of List A Matching 

 

Commencement of List B Matching 

 

August 2024

Educational Agreements for Educational Supervisors signed

 

DBS and NPL Applications started for FDs (completed via Lead Employer for DFT and DJT) 

 

1st September 2024

All Foundation Dentists (2024-25 Schemes) start in practice. The Educational Supervisor must be available in the practice for the Foundation Dentist 

The ES must not take leave in the first six weeks of the DFT year

 

2nd September 2024 (Monday) 

Regional DFT/DJT/DTFT Induction – Trainees attendance only

Birmingham Events and Conference Centre 

 

31st August 2025

 

All 2024-25 Dental Foundation Trainees complete Dental Foundation Training
The Application forms to be an Educational Supervisor  for Foundation Training will be available from 2nd Jan 2024 and remain open until 28th Jan 2024 (23:59)
Supporting documentation can be downloaded at the bottom of the page