Chemical Pathology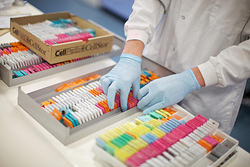 If you're looking for a high quality Chemical Pathology training programme, you've come to the right place. When you come to the East Midlands you'll join a popular and well-respected training scheme that offers excellent opportunities and experience.
The East Midlands is one of the country's fastest growing and thriving regions, offering a great work/life balance. Keep reading to learn more about Chemical Pathology training in the East Midlands.
A high quality Chemical Pathology training programme
Chemical Pathology is a fundamental diagnostic and prognostic keystone of modern medicine. All disease processes reflect changes in biochemical reactions and the analysis of cells or body fluids in a hospital setting is a critical part of 21st century medicine.
Chemical Pathologists are not just based in the lab. Increasingly, you will be engaged in direct clinical care of specialist services including nutrition, diabetes and cardiovascular risk.
The East Midlands boasts some of the country's leading facilities and you'll benefit from exposure to a wide range of learning opportunities. The region boasts two of England's top ten cities with hospitals serving millions of patients and your learning is supported by two of the UK's top 25 Universities.
The East Midlands is the perfect place to train
Centred around the cities of Nottingham, Derby and Leicester, there are a huge number of convincing reasons to live and work in the East Midlands. These include:
Low house prices - the average house price in the East Midlands is 62% lower than London, 44% lower than the South East and 25% lower than the South West
Well organised rotations - your rotations are designed to minimise your travelling time and to ensure you don't have to move home during your training. The main towns and cities in the East Midlands are less than an hour apart by road and rail
International sport - whether you are a participant or spectator, the choice of sport in the East Midlands is superb. Nottingham is England's City of Football and you can also enjoy Test cricket, European rugby, the British Grand Prix, Premier League football and top flight ice hockey. Local facilities include the National Watersports Centre, Derby Velodrome and the National Ice Centre
World-class culture and arts - as well as one of the UK's leading contemporary art galleries you can enjoy world-class theatre, a thriving local music scene, the biggest Diwali celebrations outside India, a dedicated dance centre, an international film festival and the UK's most established comedy festival
Great days and nights out - on your days off you can enjoy everything from the National Space Centre to Rockingham Castle and the National Videogame Arcade. The King Richard III Visitor's Centre was named as one of Lonely Planet's Top 10 new places to visit in 2015 while Lincoln Cathedral is one of the most impressive buildings in the country
Great transport links - with regular trains to London taking around an hour, it's easy to get around the UK and beyond. The M6, M1 and A1 make road travel easy while East Midlands international airport services 90 destinations including New York, Paris and Rome
For more information about Chemical Pathology training in the East Midlands email our Training Programme Director:
Peter Prinsloo - peter.prinsloo@nuh.nhs.uk