Geriatric Medicine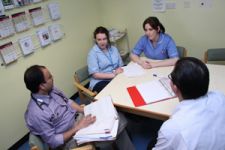 Trainees are integral members of the multi-disciplinary team
If you're looking to train in Geriatric Medicine, the East Midlands is the perfect place to come. A well-established and popular programme helps you to develop your career in some of the UK's leading facilities while you'll also have loads of opportunities for Out of Programme experiences.
And, as the major towns and cities in the region are all easily accessible by road and rail, you'll enjoy varied experiences without having to move home every few months. Keep reading to find out more about training in Geriatric Medicine in the East Midlands.
Train in some of the UK's leading facilities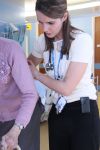 We strive for excellence through clinical practice, research and training
When you join the Geriatric Medicine programme in the East Midlands you'll dual accredit in general medicine and geriatric medicine and you'll be encouraged to triple accredit in stroke medicine. The programme is linked to two of the best medical schools in the Midlands.
Geriatric Medicine in the East Midlands has an outstanding national reputation in key areas including dementia, falls, stroke, stroke research, interface geriatrics, community geriatric medicine, orthogeriatrics and research in many areas of geriatric medicine. In recent years the team have published over 50 abstracts and over 80 peer-reviewed papers and so you'll be learning from some nationally and internationally renowned experts.
You'll also benefit from experience in some of the UK's leading facilities. The Medical and Mental Health Unit was developed to further the assessment and care of patients with dementia while the Systematic care of Older People in Elective Surgery (SCOPES) programme is a ground-breaking and is establishing pre and peri-operative Comprehensive Geriatric Assessment (CGA) for frail older patients undergoing elective surgical procedures.
The region also boasts one of the few continence clinics, a balance clinic, autonomic function testing and a FOPAL service (combined geriatric and psychogeriatric liaison service). The region is also home to the Acute Frailty Network.
Opportunities for research and Out of Programme experiences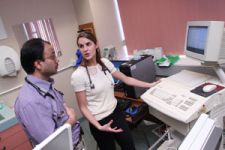 Specialised training offered in all areas of Healthcare of the Elderly
As well as a structured and high quality Geriatric Medicine training programme, when you come to the East Midlands you'll also be encouraged to develop areas of interest through further study, higher degrees and clinical research.
You'll have loads of opportunities to undertake an Out of Programme experience, whether to become a teaching fellow while studying for a Masters in Medical Education, undertaking research that may lead on to a MD or PhD or to gain further experience in stroke, acute or geriatric medicine in another country.
You'll benefit from great opportunities and recent trainees have:
Completed a Masters in General Education
Completed a one year Out of Programme Quality Improvement Fellowship in Interface Geriatrics
Obtained MDs in both stroke and Parkinsons disease
Won the only UK place at International Parkinsons Disease masterclass and won best presentation at the event
Had posters at an international palliative care conference and other national regional/meetings
Published papers in Age and Ageing, Prescriber, Stroke, Lancet Neurology and the Geriatric CME Journal
Given platform presentations at national and international meetings
Enjoy a great standard of living in the East Midlands
Despite being just over an hour from London by train, the East Midlands offers some of the most affordable living in the UK. An HSBC survey found that Leicester and Nottingham were the two cheapest places to live as a University student while the average house price in the region is 44% lower than it is in the South East.
You'll also benefit from a superb choice of days out at some of the country's most popular destinations. The King Richard III Visitors Centre in Leicester is one of the hottest new attractions in the country while Sherwood Forest, Lincoln Cathedral, the National Videogame Arcade and the Peak District are also on your doorstep.
For more information on Geriatric Medicine training in the East Midlands please contact one of our Training Programme Directors:
Dr James Reid -  James.reid@uhl-tr.nhs.uk 
Dr Catherine Gaynor - catherine.gaynor@nuh.nhs.uk