Nottingham Programme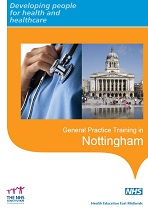 Nottingham combines a rich history with being one of the most stylish and vibrant cities in the UK and one of the best for shopping. Day and night, Nottingham buzzes with life thanks to the great choice of shops, bars and pubs, restaurants, theatres and galleries, fine hotels, international sporting events and its reputable Universities. History is never far away however, with reminders of Nottingham's legendary hero Robin Hood and his historic adversary the Sheriff of Nottingham. The historic Lace Market area has been renovated into an elegant cultural, educational and residential quarter with companies, students and home owners now working and living in buildings designed and built by Victorian lace barons. The National Ice Centre and Nottingham Arena provide the most modern ice-sports facility in the country and a large-scale concert venue. Nottingham's contemporary art gallery has held many ground breaking exhibitions since opening.
The Nottingham Programme is located near the city centre. There are currently 48 training practices and posts at 3 trusts. We are able to offer a broad range of 3 year training programmes and are fully supportive of flexible training. Our 3 year rotations are planned to contain 20 months in General Practice and 16 months of hospital rotations.
Rotational hospital posts attached to the scheme are predominantly based in teaching hospitals and specialties include Accident & Emergency / Orthopaedics, General Medicine, Paediatrics, Psychiatry, Obstetrics & Gynaecology and ENT. 
Our training practices are varied in location, patient population and partnership size. Our Trainers are highly skilled and enthusiastic, and teaching standards are very high.
Our whole and half day teaching sessions are highly valued by our trainees. With Trainers attending or facilitating many sessions, the programme is curriculum oriented with feedback used to ensure that the appropriateness and content of sessions is maintained. We particularly emphasise the importance of consultation skills both for the CSA assessment and also for the long term career of a GP. As a scheme we are fortunate to have a number of MRCGP examiners available and their expertise has been invaluable in providing success in exams, in particular the CSA component of the MRCGP. We are an innovative scheme always aspiring to push the boundaries of our teaching. Recent developments include regular multi professional learning events and teaching using the Medical Humanities.
Other Training Programme Highlights include:
GPStRs led locality based teaching
Academic Rotations through Undergraduate Dept. of General Practice  
Modular Educational Programme - Whole Day Release
Structured and integrated CSA preparation
ST1 trainee residential
Innovative training posts in Palliative Care, Sexual health, Trauma & Orthopaedic & Sport and Exercise Medicine
CSA Buddy system for CSA retakes
Advocates of Practice Based Small Group Learning (PBSGL) and Interprofessional Learning (IPL)
Child Health Surveillance Research Project
Virtual Learning Environment – Moodle
Availability of OOP opportunities
Programme Directors and Programme Team
Dr P Rayner FRCGP  – lead Programme Director, iMAP assessor and Hon Lecturer De Montfort University
Dr N Cartwright FRCGP - CSA Examiner and International Examiner for the RCGP
Dr D Hapgood – Locality Teaching and IPL lead
Dr J Redferne – Eportfolio and Locality teaching Lead
Dr A Gavrilovic – Lead of Local ARCP Panels
Testimony
"'Great scheme. Varied teaching programme covering the breadth of the curriculum, including Child Health Surveillance Course - via small group locality sessions/seminars and lectures from visiting hospital specialists. Wide variety of hospital placements available. Excellent CSA preparatory course included in ST3. Opportunities available for Integrated Training Posts and Out Of Programme Experiences. Supportive Supervisors, Programme Directors and administration team. Without doubt I would recommend Nottingham for GP training" - Dr Sarah Hardy, graduate.
Trainees
Outstanding Achievement to GP training 2012 - Dr Jaspal Taggar
Outstanding achievement to GP Training 2012 - Dr Sarah Close
Outstanding achievement to GP Training 2011 - Dr Andrew Barber
Registrar of the Year Award (Nottingham LMC) 2011 - Dr Richard Stratton
Outstanding achievement to GP Training 2010 - Dr Sid Samanta
Outstanding achievement to GP Training 2009 - Dr John Hickinbotham
For further details on the Nottingham Programme you should contact: Karen Montrose Tel: 0115 9627729 Email: Karen.Montrose@nuh.nhs.uk or vtsadministrator@nuh.nhs.uk 
http://www.nottinghamgptraining.co.uk/
FOLLOW US on Twitter: @NottsVTS