Sherwood Forest Programme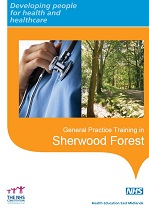 Location
The Sherwood Forest district has a mixed economic base and the former coal-mining and textile industries have now mainly been replaced by retail and light industry. Ambitious regeneration projects in recent years have transformed Mansfield in terms of retail, leisure, housing and industry.
Sherwood Forest, is within easy access to the M1, Nottingham, Derby, Sheffield, Mansfield, Newark, and the countryside of the Peak District and the Yorkshire Dales. Newark is a rural market town with quick access 1 hr 40 mins, to London. East Midlands Airport is also within easy reach.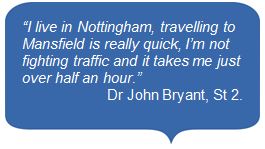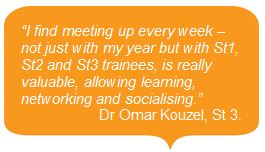 The bustling 700 year old open market is the hub of the town, complemented by shopping centers, retail parks and department stores along with boutiques and specialist stores.
Family Attractions within the district range from the ultimate in swimming fun at Water Meadows, Centre Parcs, local heritage at the Mansfield Museum and Art Gallery, to innovation at Making It!
The Programme and Ethos
The Sherwood Forest Programme is a small to medium size friendly programme offering a high level of pastoral support for all our Trainees.
We aim to provide:
A top quality education programme and experience.
A broad programme which fosters the desire to learn, the ability to think and work independently with opportunities for each individual to develop their full potential.
A learner-centered, flexible, personal, friendly approach treating you as an individual.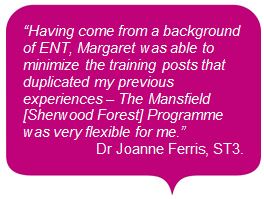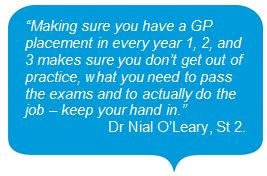 With the Sherwood Forest Programme you will be on a 3 year rotation, containing 20 months within General Practice placements, split across each of the three training years.
With the new direction of recruitment in 2015 in the East midlands we have maintained our high level of flexibility, fitting your rotation around you. Not you into a rotation!
The Posts
We have excellent trainers and excellent hospital posts in a modern purpose built District General Hospital.
Rotational Hospital posts attached to the scheme are based at King's Mill Hospital, which is part of the Sherwood Hospitals NHS Trust, and occasionally Nottingham University Hospitals.
Specialties include:
Obstetrics & Gynaecology
Paediatrics
Acute Medicine – Endocrinology / Respiratory / Care of the Elderly
Accident & Emergency
Psychiatry
Palliative Care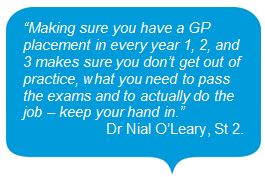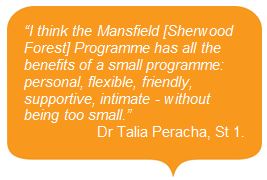 The Training Sessions
The programme runs a weekly integrated half-day release course.
Other Highlights
Residential course (We run an annual Residential course, for ALL ST years.) - This years course [2014] highlights include After dinner speech by 'Mike Stroud' – the explorer, acting classes for CSA and consultation improvement and feedback sessions from sponsored attendees to the RCGP annual meeting.
Regular mock CSA examinations ('Excellent practice for the CSA – I would have paid to go on a course like that')
One away day (again open to all ST years) This year based at Centre Parcs, 'good fun informative and we got to use the facilities afterwards!' – Dr Shabana Shaheen, ST3.
An annual HOT TOPIC / GP Update course (last year ran by NB Medical education) this year planned by Red Whale – Fantastic for AKT and every day general practice.
Ability to work part time 60% in flexible GP Trainee posts (many GP Trainees have taken advantage of this when returning form maternity leave).
General Practice attachments are based in a mix of urban, deprived and rural areas. Providing a wide range of experience.
Support for Innovative Trainee Posts (ITP).
Strong support for MRCGP, Child Health Surveillance training,
Family Planning, Obstetric List training and Minor Surgery.
Support from experienced and enthusiastic programme directors: Dr Philip Smith, Dr Caroline Ahrens, Dr Justin Smith.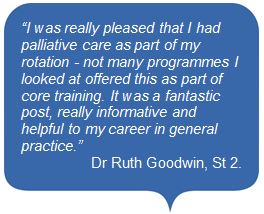 Come join our programme, we really look forward to meeting you!
East Midlands has been allocated a small number of TERS payments in Sherwood Forest and Lincolnshire as part of the Targeted Enhanced Recruitment Scheme (TERS) - https://gprecruitment.hee.nhs.uk/Recruitment/TERS/England
For further details on the Sherwood Forest Programme you should contact Margaret Murray, Programme Manager on 01623 622515 extension 3100 or margaret.Murray8@nhs.net